Whether you've always admired beautifully defined lip contours or desire to add volume to thin or deflated lips, our team specialises in creating natural-looking lips that meet your unique preferences. At our clinic, our Registered Cosmetic Nurses perform lip enhancement procedures using premium injectable lip filler gels specifically designed for lip rejuvenation and enhancement. 
Lip injections effectively rebuild lip volume by utilising fillers composed of hyaluronic acid, a naturally occurring substance in our skin. Hyaluronic acid not only improves skin hydration and texture but also aids in the restoration and addition of volume to your lips. The outcome is a subtle yet noticeable enhancement that improves the appearance of your lips while maintaining a natural look.
For more information about this treatment, we encourage you to contact us or book a lip filler consultation at one of our three clinics located in Brisbane, Edge Hill, and Trinity Beach.
Lip fillers before and after results
Below you can see some of the great results our previous clients have achieved after having lip dermal filler treatments:
How will lip filler treatment
benefit me?
There are numerous benefits of having lip dermal fillers:
Enhance the look of your lips
Create a more enhanced shape
Define and hydrate your lips
Add volume
Natural results
Boost your confidence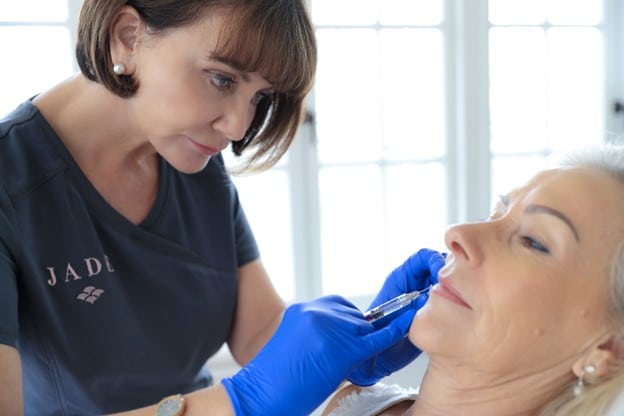 All of our Registered Cosmetic Nurses are highly trained
and experienced in performing lip injections.
Am I a good candidate for lip injections?
Lip injections are suitable for people who wish to restore volume and definition to their lips and reduce or postpone the signs of ageing. The best way to determine whether lip injections are right for you is to contact us and book an initial consultation, where we can discuss the full possibilities and benefits of this treatment.
Are there any risks associated
with lip dermal filler treatment?
One of the primary reasons why lip filler treatments are so popular and widely requested is due to their proven safety record, especially when performed by an experienced professional. The use of a natural substance from the body means that the risk of allergic reactions is low. Everything you need to know will be explained during your consultation to ensure complete peace of mind.
How are lip injections carried out
in Brisbane at Jade Cosmetic Clinic?
If you decide to have your lip injections with us at our Brisbane clinic, this is what you can expect:
Consultation
We start with a consultation that includes a lip and facial assessment. We will discuss your desired outcomes and recommend the most harmonious, proportionate result to best suit your face. We use a variety of long-lasting fillers and recommend the one that we believe is best suited to you. A strong, tailor-made anaesthetic cream is applied to ensure that the treatment is comfortable.
Procedure
The procedure itself takes approximately 60 minutes. This includes the time taken to discuss the treatment, possible complications and aftercare, as well as the clinical photography and anaesthetic cream application.
Results and Recovery
Results will be seen immediately after lip filler treatment but will continue to improve for the next 2 to 4 weeks. Straight after treatment, you may experience some swelling, bruising and redness but it's important to note that this is completely normal, only temporary and will subside in a few days. Depending on the cosmetic filler used, your results will last approximately 12 to 18 months.
How much does lip dermal filler cost in Brisbane?
All of our lip fillers cost $600 for 1ml. At your initial consultation, after your facial and lip assessment, we'll be able to give you an accurate cost for your individual treatment.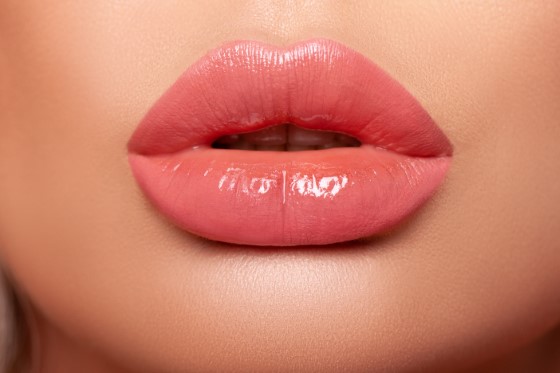 Restore volume or define and hydrate your
lips with our lip fillers in Brisbane.
Why choose Jade Cosmetic Clinic for your lip fillers in Brisbane?
At Jade Cosmetic Clinic we understand that it's not just about the way you look, it's also about how you feel. That's why we take such great care with all of our clients, to ensure that everyone has the best possible experience when visiting any of our award-winning treatment clinics in Queensland.
All of our consultations have zero obligations or pressure and none of our Registered Cosmetic Nurses has sales targets, so they are fully committed to providing you with the best possible options based on what is right for you! Finally, and most importantly, they are all competent in diagnosing and managing complications, so you can rest assured that you're in very safe hands.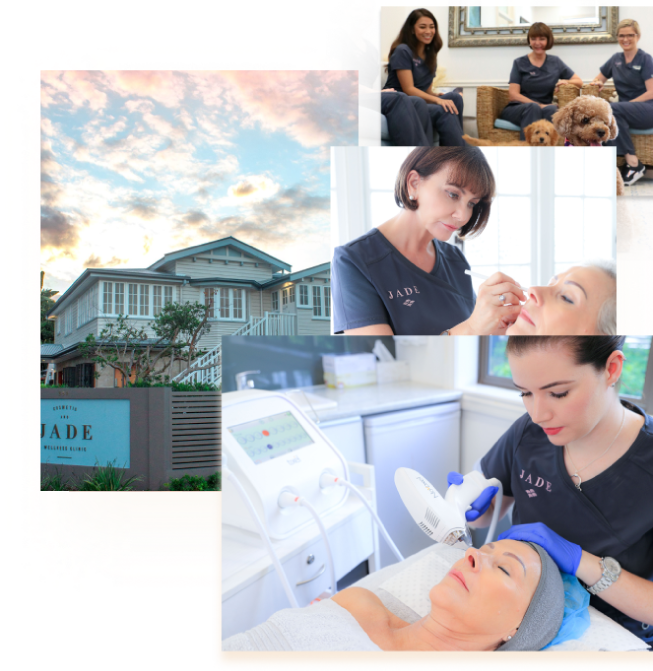 Below are some of our most frequently asked questions about our lip filler treatment:
Don't just take our word for it…
"I had an outstanding experience with Jade a few weeks ago. Lisa was exceptionally caring, listened to my concerns about skin care and gave excellent advice. Michael made outstanding suggestions for products, and having used the Synergy samples for a few weeks, I am completely convinced by his recommendations (also a wonderful foundation match!). I recommend Jade Cometic Clinic highly! :)"
Mirani L.
"If you're looking to find the best clinic in cairns, this is definitely the one! My experience was so professional and the staff made me feel so comfortable and welcome. 10/10!"
Cailey S.
"From the moment I walked into the beautiful Queenslander, I was impressed by their professionalism and outstanding demeanour of the staff. Today I felt like a woman. Thank you Jade cosmetics. Your attention to detail was impeccable. I will absolutely be returning for further treatments."
Evie K.
"Very happy with how I was welcomed, procedure was explained clearly and done with minimum discomfort, I was relaxed the whole time and felt heard , genuine advice was given by the very smiley and knowledgeable Emillie, will definitely return."
Ieong H.
"Fantastic service & beautiful clinic. Very knowledgeable staff and thorough explanation of treatment options. Highly recommend 😊"
Caitlin A.
"I was so impressed with the clinic from the second I walked in, such a comfortable and welcoming environment! I was nervous at first but soon as I spoke to Emilie she assured me I would be fine and put my mind at ease with her expertise."
Maddison G.
"From the moment I walked in the door to the beautiful friendly greeting by the receptionist. My whole experience was a relaxed and very welcoming one.
Lisa was so lovely, kind and gentle. She explained everything and gave me up front pricing which helped me fit with my budget.
Can't recommend this business enough.
Thank you for making me feel so welcomed xx"
Terez A.
"Excellent service and so much reassurance and support throughout the whole regime"
Jodi R.
"Highly recommend. The pampering begins as soon as you arrive. Excellent service, great follow up. Looking forward to my next session."
Alex C.
"Jade is such a beautiful clinic, all the staff are so friendly and professional. I have enjoyed a couple of lovely visits to treat my various skin issues and are so pleased with the results. They explain everything in full, including costs incurred and have such great technology to treat a wide range of various ailments. If you want to improve your skin health and look your best, call Jade."
Jess U.
"I had never been to Jade before and I must say I was impressed. Lisa was so informative about everything and didn't try to talk me into anything. Answered all my questions and was very truthful in what Jade could and couldn't do for me, which I really appreciated. Thank you for making this experience an enjoyable one."
Ingrid W.
"Michael went above and beyond to help me with my skin care product needs, so welcoming and helpful. Such a beautiful clinic. I won't be going anywhere else. xx"
Demi M.
How to book a consultation
To enquire about a lip filler appointment or for more information you can contact us online or call us on 1300 060 644. Or if you're ready to book a consultation with us, you can fill out our online booking form.