Cosmetic Injectables and
Skin Treatments in Brisbane
Situated on one of Paddington's most iconic streets, is our Brisbane Jade Clinic. Our boutique-style setting with relax you the minute you walk though our door. Privacy and comfort are our focus here as you indulge in a range of advanced injectable and skin treatments. Limited street parking is available.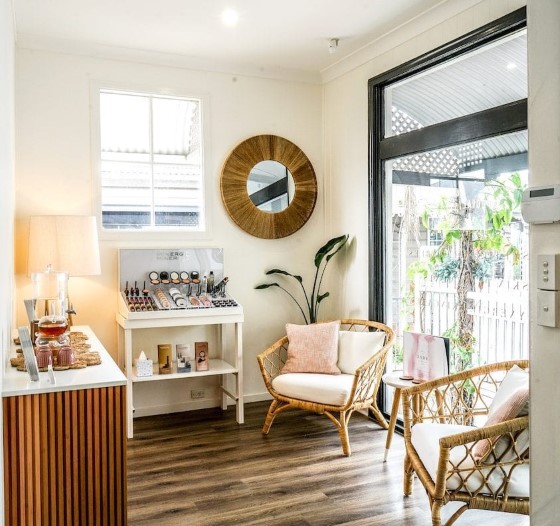 Services We Provide in
Our Brisbane Clinic
Cosmetic injectables
Advanced Anti-ageing Medi-facial
Pure Indulgence Medi-facial
Cosmelan Peel
Exceed Skin Needling
Dermaplaning
Hydrafacial
Skin Peels
Salicylic peel
Lactic peel
Multi-layered peel
LED Skin Treatments
Tixel
HALO Laser
Enzyme Hydropeel
Tetra peel
Jessner Power peel
BBL
Skin Rejuvenation
Hair Removal
Acne Treatment
Purifying Medi-facial
Vitamin Infusion Medi-facial
Repair & Restore Medi-facial
Full retail store – Synergie Skin and Synergie Minerals
We Understand Your Needs
& Provide Quality Skin Care
Clients choose us not just for our extensive range of medical treatments, but for our genuine, warm and qualified staff who will ensure you leave your appointment feeling empowered, informed and cared for. From the moment you step through our door, we will ensure you experience the utmost in care and attention.
We're an independent, family-owned business. We've built our reputation on understanding your real needs — the way you want to look and feel.
We are one of Queensland's award-winning cosmetic injectable and skin rejuvenation clinics with locations in Trinity Beach, Cairns and Brisbane.
We've delivered over 40,000 treatments to help men and women feel happier, healthier and more confident with their skin and the way the world sees them.
Whether that's less stressed, tired or angry– or more healthy, friendly or happy, it's our job to empower you with accurate and honest information about how we can achieve your goals while maintaining a balanced, natural looking appearance. But that's just the beginning.
At the Jade Cosmetic & Wellness Clinics, we genuinely care for and support every client. That is why our consultations have zero obligations or pressure. Instead, we're centred on what's best for you, even if that's no treatment at all. Every service we provide is carried out by highly trained, experienced specialists in their field.
"I had an outstanding experience with Jade a few weeks ago. Lisa was exceptionally caring, listened to my concerns about skin care and gave excellent advice. Michael made outstanding suggestions for products, and having used the Synergy samples for a few weeks, I am completely convinced by his recommendations (also a wonderful foundation match!). I recommend Jade Cometic Clinic highly! :)"
Mirani L.
"If you're looking to find the best clinic in cairns, this is definitely the one! My experience was so professional and the staff made me feel so comfortable and welcome. 10/10!"
Cailey S.
"From the moment I walked into the beautiful Queenslander, I was impressed by their professionalism and outstanding demeanour of the staff. Today I felt like a woman. Thank you Jade cosmetics. Your attention to detail was impeccable. I will absolutely be returning for further treatments."
Evie K.
"Very happy with how I was welcomed, procedure was explained clearly and done with minimum discomfort, I was relaxed the whole time and felt heard , genuine advice was given by the very smiley and knowledgeable Emillie, will definitely return."
Ieong H.
"Fantastic service & beautiful clinic. Very knowledgeable staff and thorough explanation of treatment options. Highly recommend 😊"
Caitlin A.
"I was so impressed with the clinic from the second I walked in, such a comfortable and welcoming environment! I was nervous at first but soon as I spoke to Emilie she assured me I would be fine and put my mind at ease with her expertise."
Maddison G.
"From the moment I walked in the door to the beautiful friendly greeting by the receptionist. My whole experience was a relaxed and very welcoming one.
Lisa was so lovely, kind and gentle. She explained everything and gave me up front pricing which helped me fit with my budget.
Can't recommend this business enough.
Thank you for making me feel so welcomed xx"
Terez A.
"Excellent service and so much reassurance and support throughout the whole regime"
Jodi R.
"Highly recommend. The pampering begins as soon as you arrive. Excellent service, great follow up. Looking forward to my next session."
Alex C.
"Jade is such a beautiful clinic, all the staff are so friendly and professional. I have enjoyed a couple of lovely visits to treat my various skin issues and are so pleased with the results. They explain everything in full, including costs incurred and have such great technology to treat a wide range of various ailments. If you want to improve your skin health and look your best, call Jade."
Jess U.
"I had never been to Jade before and I must say I was impressed. Lisa was so informative about everything and didn't try to talk me into anything. Answered all my questions and was very truthful in what Jade could and couldn't do for me, which I really appreciated. Thank you for making this experience an enjoyable one."
Ingrid W.
"Michael went above and beyond to help me with my skin care product needs, so welcoming and helpful. Such a beautiful clinic. I won't be going anywhere else. xx"
Demi M.
Questions?
Book Your Consultation Today
If you are looking for expert advice, high-quality products and confidence in the outcome you desire, talk with us today.