We understand that it's not just about the
way you look, it's all about how you feel
Welcome to the Jade Cosmetic Clinic. If it is your first time visiting our site, we are delighted to care for you. We value every client greatly and believe the superior care and attention we provide is one of the reasons that we are one of the most sought-after and award-winning treatment clinics in Queensland.
We've built our reputation on understanding your real needs – the way you want to look and feel – while providing unbiased, genuine support and sharing our intricate knowledge of every layer of the face, skin and beyond.

Whether that's less stressed, tired or angry – or more healthy, friendly or happy, it's our job to empower you with accurate and honest information about how we can achieve your goals while maintaining a balanced, natural-looking appearance. But that's just the beginning.
Director / Registered Cosmetic Nurse – Cairns clinic
Lisa founded The Jade Cosmetic Clinic in 2006 to offer a premium medical cosmetic service that truly puts people first, empowering clients to make the best decisions for themselves in a safe and supportive environment.
With a driving passion for demystifying treatments, ensuring every aspect of care and treatment is clinically proven & evidence-based, and keeping her client's best interests as the top priority, Jade Cosmetic Clinic has become a leading clinic in Australia.
Lisa regularly travels to interstate and international conferences to share her experience and learn about new advances and innovations in the industry from other leading practitioners. 
Lisa's keen eye for detail and artistic flair has helped to establish her as one of Australia's most talented Cosmetic Injectors. With a focus on line prevention and restoring facial volume, Lisa is an expert at achieving natural-looking results.
Registered Cosmetic Nurse – Brisbane clinic
Ella completed her Bachelor of Nursing degree in Melbourne and spent time working in paediatrics. While in Melbourne, she gained qualifications in Laser/IPL Safety, Skin Treatments and Cosmetic Injectables.
As a Senior Cosmetic Injector, Ella is skilled at a range of injectable treatments, including PRP, Skin Boosters, and Collagen Bio-stimulators.
Ella has a rare talent for facial aesthetics and is renowned for her transformative work. In 2018, Ella was awarded Australia's Favourite Cosmetic Injector – QLD. She is a frequent guest of Australia-wide industry conferences. Ella is based in ur Brisbane clinic and is currently on maternity leave until mid 2023. Please contact the clinic to be notified of her return dates.
Time away from work is spent with her husband and 2 dogs, renovating their new home and relaxing through artwork and interior design.
Registered Cosmetic Nurse – Cairns and Trinity Beach Clinic
Jayde is a caring and welcoming addition to the JADE Team. She is a highly trained Registered Nurse with experience crossing over a variety of medical departments. These intensive caring nursing roles (Women's Health, Paediatrics, Emergency, Surgical) have allowed Jayde to naturally develop a passion for making her clients feel relaxed and calm. Jayde's interest in Cosmetic Nursing began with completing her post-graduate Diploma of Dermatological and Cosmeceutical Science at ACCDS and she has excelled in all aspects of medical skin treatments and cosmetic injectables including PRP, Skin Boosters, Collagen Bio-stimulators, and PDO threads.
Jayde's broad range of skills and knowledge enables her to provide you with the best possible treatment option.
Away from work, Jayde enjoys time with her husband, son, and beloved dog, Radar.
Registered Cosmetic Nurse – Paddington, Brisbane Clinic
Emilie brings a wealth of knowledge & incredible experience to our Brisbane clinic. Graduating from UQ in 2013 with a dual Batchelor's degree in Nursing & Midwifery,
Emilie has spent many years both within the hospital & the community, supporting women through their pregnancy, birth & post-natal periods. 
During this time, Emilie has always had a burning passion for skin health, makeup & beauty which saw her working as a freelance makeup artist with some of Australia's top makeup & skincare brands around the world.
With a medical background & such a keen eye for detail, naturally, Emilie gravitated toward the world of cosmetic injectables. Since beginning her career as a cosmetic injectable nurse, Emilie has quickly become a well-known name within our industry, popular for her stunning, natural-looking results & holistic approach to positive ageing.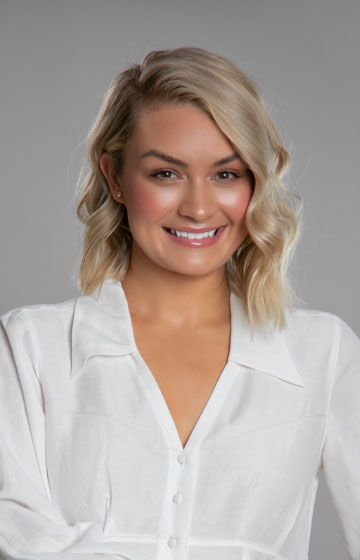 Registered Cosmetic Nurse - Brisbane clinic
Belinda's fun, compassionate, and professional nature along with her dedication to delivering five-star customer service is greatly valued by the Brisbane Jade Team. Her education qualifications are extremely impressive.
She is a Registered Nurse with experience performing intensive caring Nursing Roles in Women's Health, Neonatal Intensive Care, Emergency, and Surgical. Belinda has also completed her Diploma of Beauty Therapy qualification. Her comprehensive skin knowledge/analysis with her very keen eye for detail made sense in joining the Brisbane clinic.
Dermal Therapist – Cairns clinic
In addition to having twelve years of comprehensive experience as a Skin Therapist, Rhi has a keen interest in helping clients overcome their skin challenges and concerns as she suffered from severe acne vulgaris from pre-teen to adolescence. Rhi is renowned for her caring and understanding nature, and her knowledge of the connection between skin health and gut health sets her apart as an expert in this field.
Trained in Brisbane and as a former Queensland educator for The Australian Dermal and Laser Institute, Rhi provides our skin clinic with a diverse range of knowledge and experience with an innovative and educated approach.
Rhi is our Senior Dermal Therapist and oversees all the training of Jade staff with skin treatments, ensuring all our clients receive predictable and optimal outcomes.
Rhi is a passionate mother of two and enjoys her home life with her husband.
She is currently studying nursing part-time with the goal of becoming a Midwife.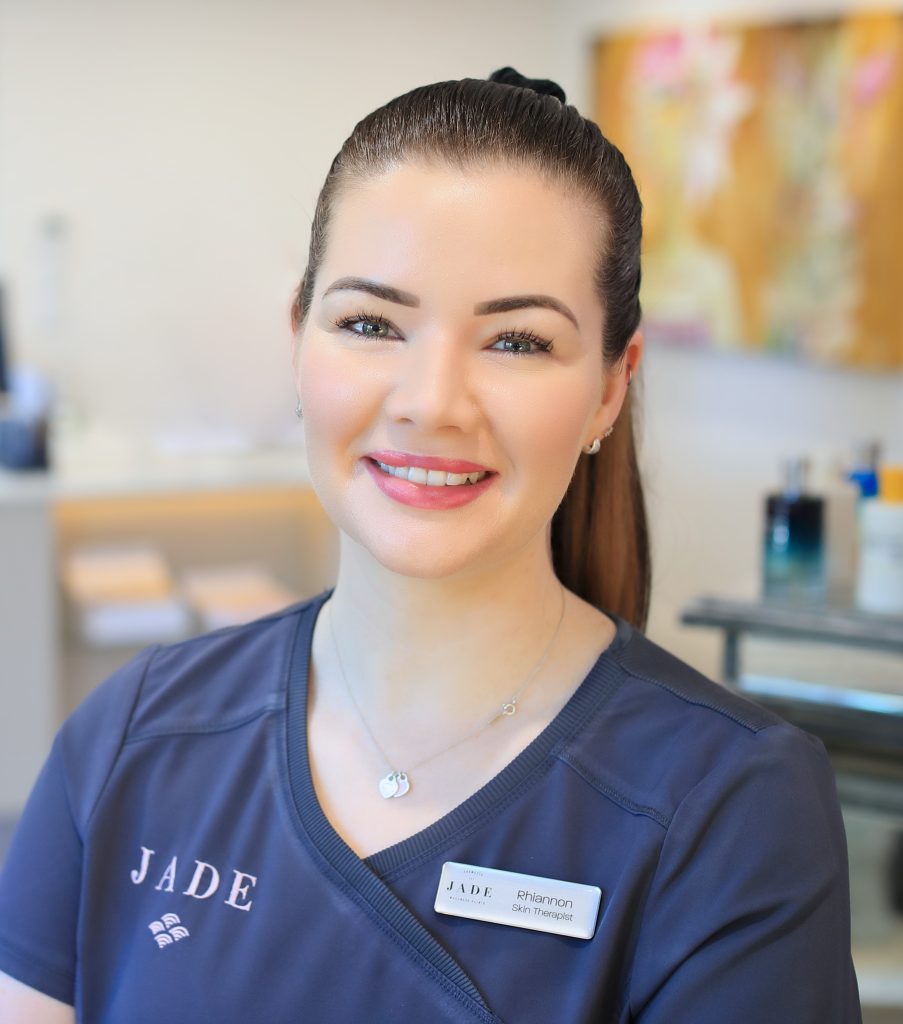 Dermal Therapist and Body Sculpting Specialist – Trinity Beach clinic
Not only is Amy one of the most experienced Coolsculpting technicians in Australia,  but she is also one of our most popular Dermal Therapists.  This has been a natural progression for Amy who is passionate about skin anatomy and the link between gut health and skin health.
Amy draws from her extensive skin education when creating treatment plans, but also her own struggles with her skin over the years. These challenges have given her in-depth knowledge of how to treat skin concerns using a combination of internal supplementation and topical treatments.
Combining her experience and interest in body treatments, Amy has become our Secret RF micro-needling expert, with a particular interest in treating stretch marks and scars and achieving skin tightening.
Amy has attended the CoolSculpting University and invite-only Masterclasses over the past few years awarding her "expert status" in achieving body sculpting transformations in men and women.
A busy mother of two children, Amy also lists fitness and nutrition as her interests. Amy's passion is helping to empower women in all aspects of their lives.
Dermal Therapist – Trinity Beach Clinic
Savannah is our highly trained Dermal Therapist at the Trinity Beach Clinic. Initially studying a Diploma of Beauty Therapy with The French Beauty Academy, which sparked a great interest in skin anatomy leading her to undertake further studies in Dermal Therapy. Savannah draws on her passion for making people feel the best versions of themselves when recommending treatment plans.
Having suffered from persistent acne since her teen years, Savannah is extremely passionate about treating this particular concern. Nothing gives her greater satisfaction than giving her clients the confidence that clear skin brings.
A self-confessed skin nerd, Savannah has extensive knowledge of the Synergie Skin & Minerals range and could list all the ingredients in every product and the benefit it will have on your skin!
Savannah is constantly furthering her knowledge and skills and last year travelled to Brisbane for the Synergie Skin masterclass – focusing on intrinsic and extrinsic ageing, pigmentation, and the wonderful benefits of medical grade peels. Savannah is consistently researching the latest social media skin trends and listening to aesthetic podcasts and industry updates to bring her clients the most up-to-date knowledge.
Savannah's nature is gentle, kind and caring and she is a valued member of our Jade team. Recently back from maternity leave, Savannah has now given birth to a beautiful baby girl and is back in the clinic taking appointments.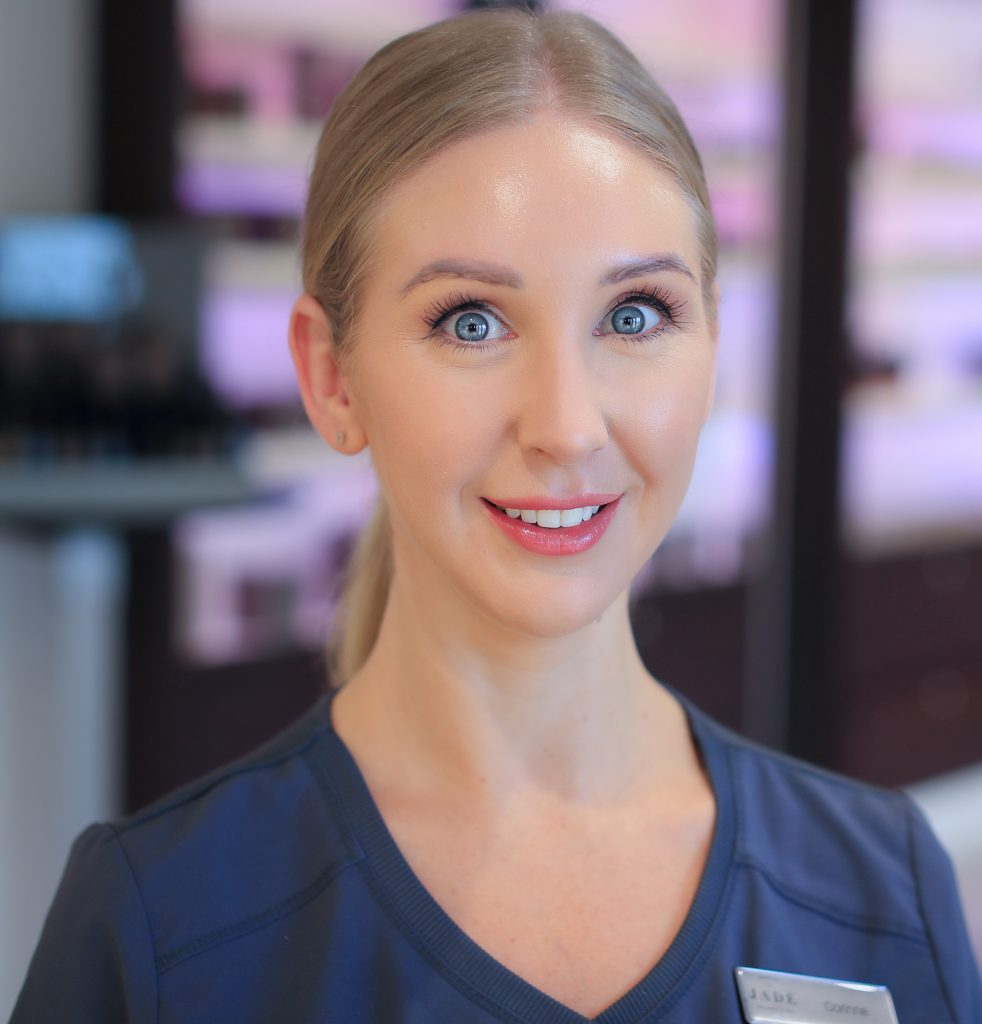 Dermal Therapist – Edge Hill Clinic
For 18 years, Corinne has been a leader in the realm of beauty and wellness. From day spas to the bustling energy of beauty salons, she has honed her craft meticulously and brings a wealth of knowledge to our team.
A decade ago, she moved into a clinical space, collaborating with esteemed doctors and nurses, using the transformative power of IPL and lasers. From this experience, Lasers and IPL have become her favourite treatments to perform but she still loves helping someone relax and feel rejuvenated from a Medifacial.
Treating pigmentation and acne is her specialty and through targeted treatments, she has witnessed lives transformed, confidence restored, and burdens lifted. Her passion extends beyond the treatment room, and she finds joy in sharing knowledge, training fellow therapists, and empowering clients to understand and care for their own skin.
In this ever-evolving industry, Corinne has become a perpetual student and understands that each day brings new discoveries, as procedures and products evolve with the latest research.
When not immersed in the world of beauty, you'll find Corinne at the gym, enjoying leisurely walks with her dog, and cherishing precious moments with her children. This balance and connection fuel her creativity and recharge her spirit.
Corinne is excited to be working with the Jade Cosmetic Clinic team and is ready to inspire others to embrace their own unique beauty.
Manager and Make-up Artist – Pure Synergie Skin Store
Michael was enticed to come and manage our Skin Store after having worked in the cosmetic industry for over 24 years with some of the most successful skincare and make-up ranges worldwide. Seven years on and Michael is totally committed to the amazing results that Synergie Skincare delivers to our clients.
With a bespoke collection of unique fragrances and other difficult-to-obtain health and wellness products, Michael delivers the ultimate five-star customer service and expertise, making a visit to our store an absolute must.
Hannah Fuller joins our front reception team from a background in real estate sales, events and marketing. Hannah is known for her beautiful warm manner both over the phone and with clients in the clinic. A Cairns local since childhood, Hannah is proud to be working for a local Cairns business committed to providing five-star client service every step of the way. Hannah brings a warm, gentle vibe with her every day, and keeps us all smiling with her quirky sense of humour.
Hannah loves her time at home with her husband and young son.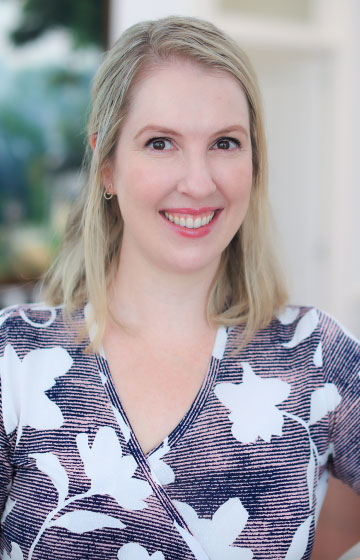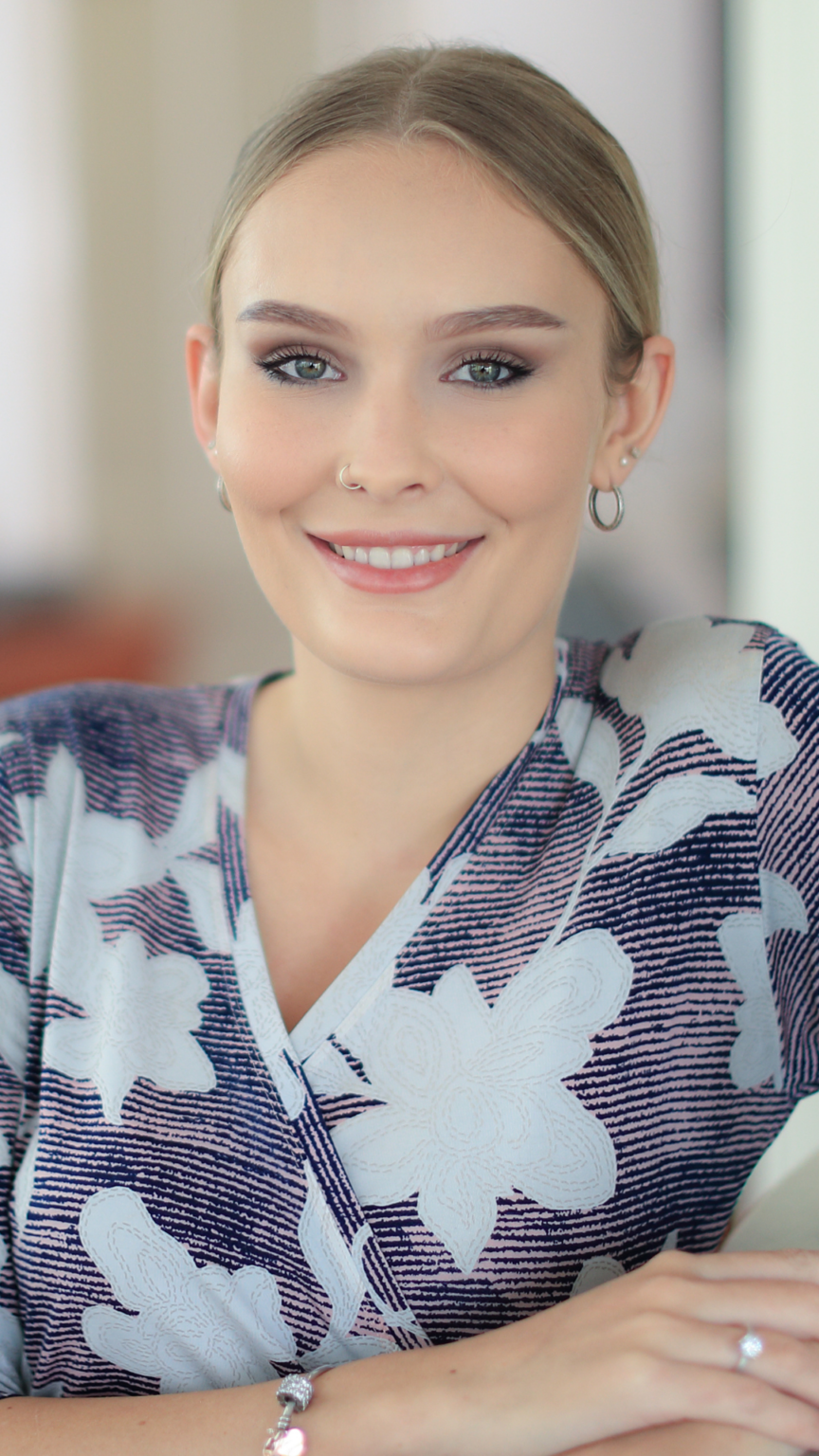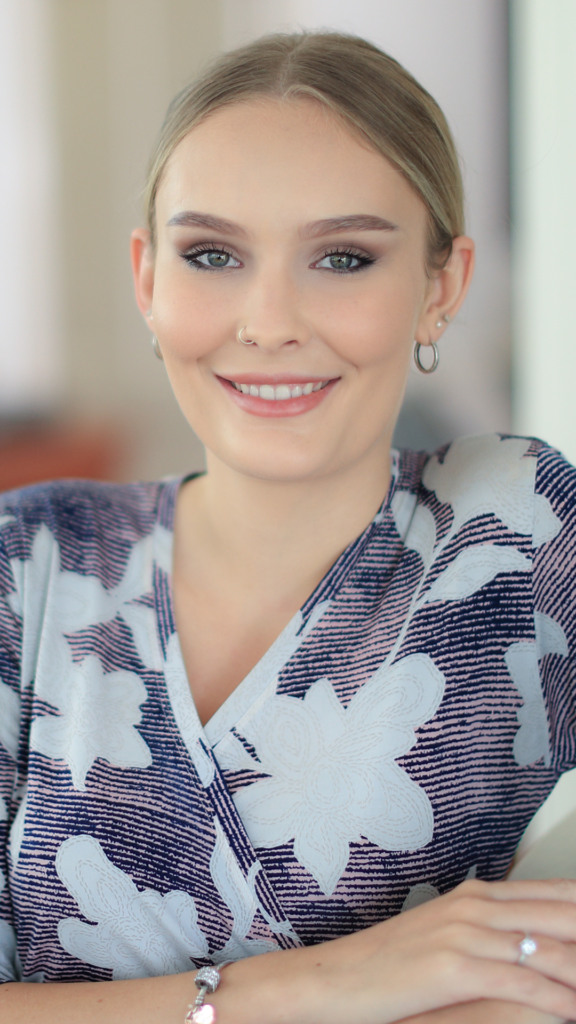 Clinic Co-ordinator - Cairns clinic
Keely is one of our amazing front-of-house receptionists and client ambassadors delivering our customary five-star customer service. You will be greeted with her warm friendly smile, making you feel relaxed and welcomed into our Jade family.
With a background in Early Childhood, Keely resonates care and attention at every turn, and her passions are beauty, personal development, and caring for homeless animals.
Clinic Coordinator - Trinity Beach Clinic
Naly's bright smile and happiness light up our clinic. Her happy-go-lucky personality and exceptional customer five-star customer service make her popular with our Clients and Team alike.
Expect to be warmly greeted by Naly at our Trinity Beach or Edge Hill Clinic next time you are in.
Naly's background is in administration and dental nursing and holds a Diploma in Beauty. She is currently studying to be a Pilates Instructor.
Outside of work, Naly is our fitness guru, she attends early morning work-outs at her local fitness studio and loves cooking and eating healthy nourishing food.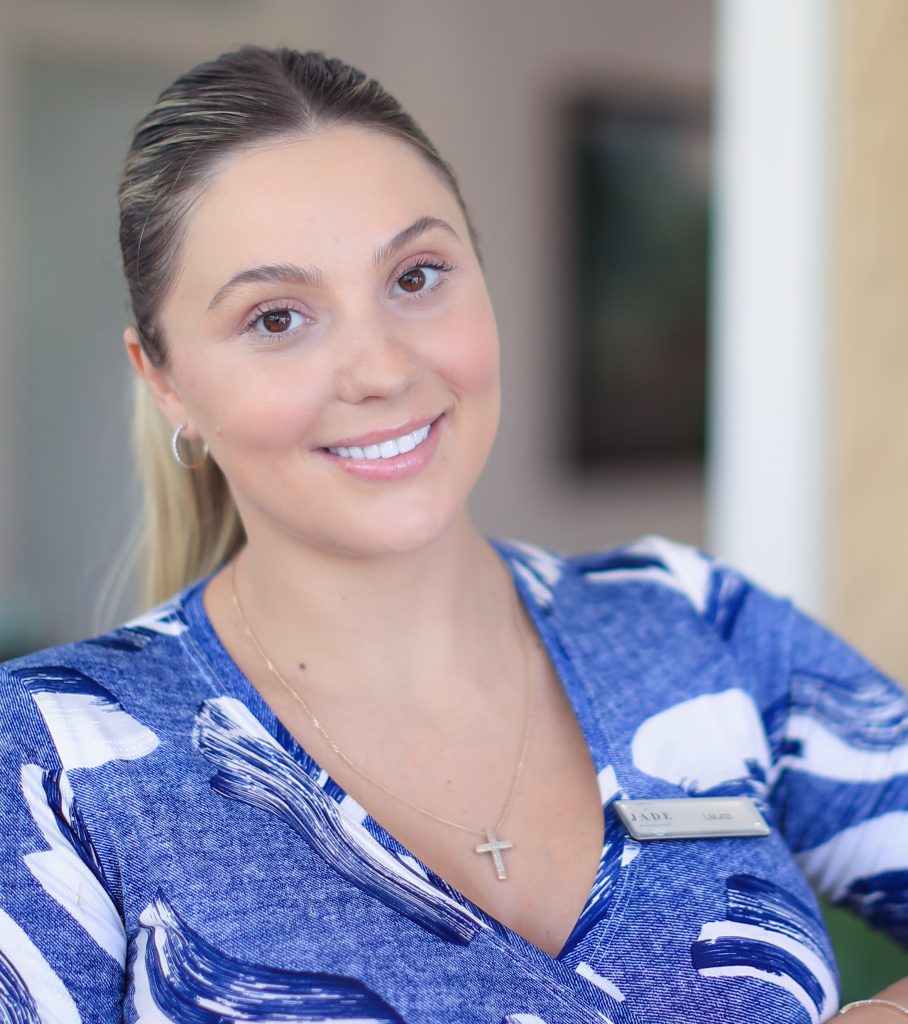 Clinic Coordinator - Cairns Clinic
Laura is our administration superstar with over 10 years of experience working in the healthcare industry. She radiates warmth and possesses a sunny personality, coupled with a deep passion for the beauty industry.
Laura also holds a diploma in Makeup Services and has completed a short course specialising in brow lamination, tinting, waxing, and shaping.
When not working Laura indulges in a repertoire of self-care activities, including dedicated skincare routines, and experimenting with new makeup techniques. Her profound love for the outdoors draws her to nature, and she loves spending time with her family, which includes a cherished daughter and a supportive husband.
Laura's mission is to infuse every interaction with a ray of sunshine. She is unwaveringly committed to ensuring that each contact with Jade Cosmetic Clinic is characterised by efficiency and warmth.
Laura said she has found her dream job her at Jade Cosmetic Clinic and we certainly agree she is a dream to work with.
Clinic Coordinator – Brisbane Clinic
Christie is a seasoned professional with a wealth of experience in customer service, boasting an impressive background in two diverse industries: aviation and beauty. With a passion for serving others and a commitment to excellence, Christie consistently delivers top-notch customer experiences.
Having honed her skills in the fast-paced and demanding aviation industry, Christie is well-versed in providing exceptional service. Her ability to handle customer inquiries, resolve issues, and ensure patient satisfaction has made her a trusted and respected member of our team.
In addition to her aviation experience, Christie has also made a mark in the beauty industry and holds a Diploma of Beauty Therapy. So whether it's recommending skincare products, providing makeup consultations, or offering beauty tips, Christie has a knack for making people feel confident and beautiful.
Beyond her professional life, she cherishes her furry companions and enjoys spending quality time with them. On a relaxing evening, you can often find her unwinding with a glass of red wine and indulging in some binge-watching on Netflix. Her appreciation for the simple pleasures in life is evident in her warm and approachable demeanour, which shines through in her interactions with customers and colleagues alike.