Vita Sol: good Skin Starts from within
Discover the secret to radiant, healthy skin with VITA-SOL, your go-to destination for integrative skin care. We believe that true skin health starts from the inside out, and our mission is to provide you with the highest quality nutraceuticals to support your skin's well-being.
Our Approach to Skin Care
At VITA-SOL, we embrace an integrative approach to skincare that draws inspiration from the fascinating fields of nutrigenomics and epigenetics. Our products are carefully formulated to bridge the gap between traditional skincare and nutrition, offering you a holistic solution for your skin.
Clinically Formulated Excellence
Each VITA-SOL product is the result of expert curation by nutritional medicine practitioner and skin specialist Fiona Tuck. We source only the finest ingredients, including essential nutrients, phytochemicals, polyphenols, and prebiotics, to promote vibrant and healthy skin.
Enhance Your Beauty Routine
Our nutraceuticals are designed to seamlessly fit into your daily life, enhancing the effectiveness of your topical skincare products and professional skin treatments. With VITA-SOL, you can embrace a proactive approach to skincare that truly works.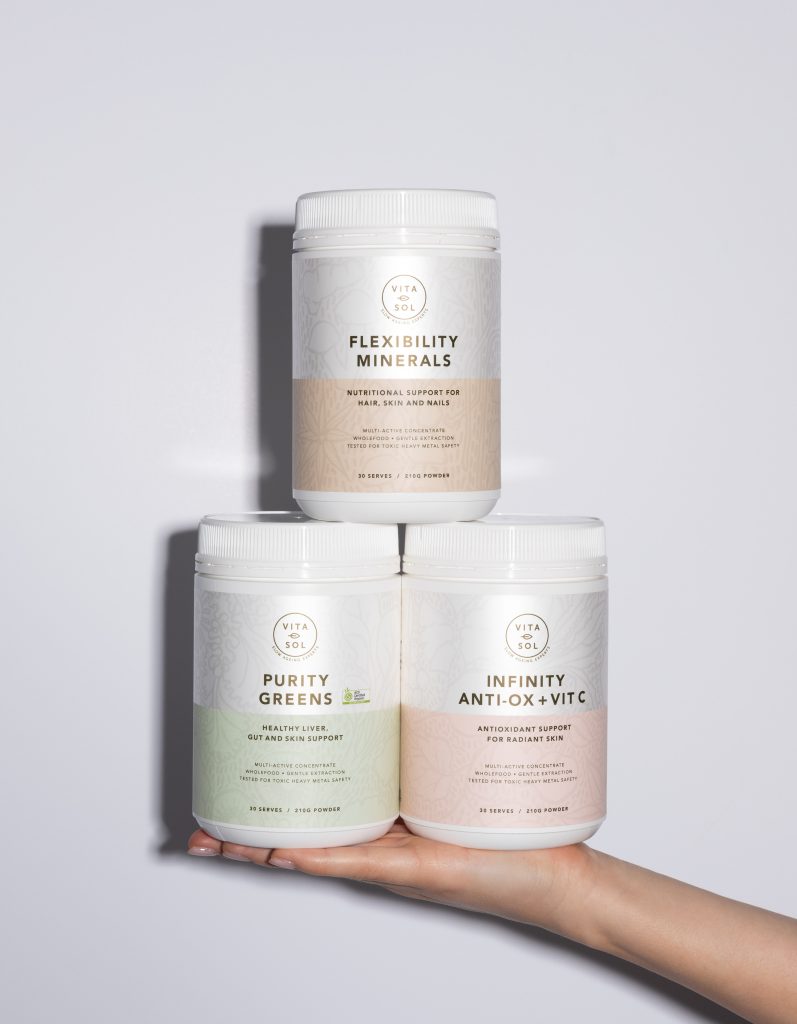 Tailored Solutions for Your Skin Concerns
We understand that each person's skin is unique. That's why we offer a range of VITA-SOL products tailored to address various skin concerns. Whether you're dealing with breakout-prone skin, cellulite, collagen and elastin loss, redness, dryness, hormonal imbalances, or other issues, we have a nutraceutical solution to support your skin's health.
Breakout-Prone Skin: Try Ultra Omega Plus and Purity Greens.

Cellulite Concerns: Consider Ultra Omega Plus and Collagen Boost.

Collagen and Elastin Support: Explore Ultra Omega Plus and Collagen Boost.

Redness and Irritation: Opt for Ultra Omega Plus, Collagen Boost, Purity Greens, and Flexibility Minerals.

Hormonal Skin: Look into Ultra Omega Plus and Purity Greens.

Hydration Needs: Combine Ultra Omega Plus and Collagen Boost.

Nail and Skin Health: Include Ultra Omega Plus, Collagen Boost, and Flexibility Minerals.

Pigmentation: Discover benefits with Ultra Omega Plus and Purity Greens.

Rosacea: Find relief with Ultra Omega Plus and Purity Greens.

Wound Healing Support: Consider Ultra Omega Plus, Collagen Boost, and Flexibility Minerals.

Skin Elasticity Enhancement: Opt for Ultra Omega Plus and Collagen Boost.

Addressing Ageing and Sun Damage: Harness the power of Ultra Omega Plus and Collagen Boost.
Welcome to VITA-SOL, where your journey to healthier, more radiant skin begins from within.
October-Only Offer: 10% OFF!
You can purchase this product from us in store, or phone order for post.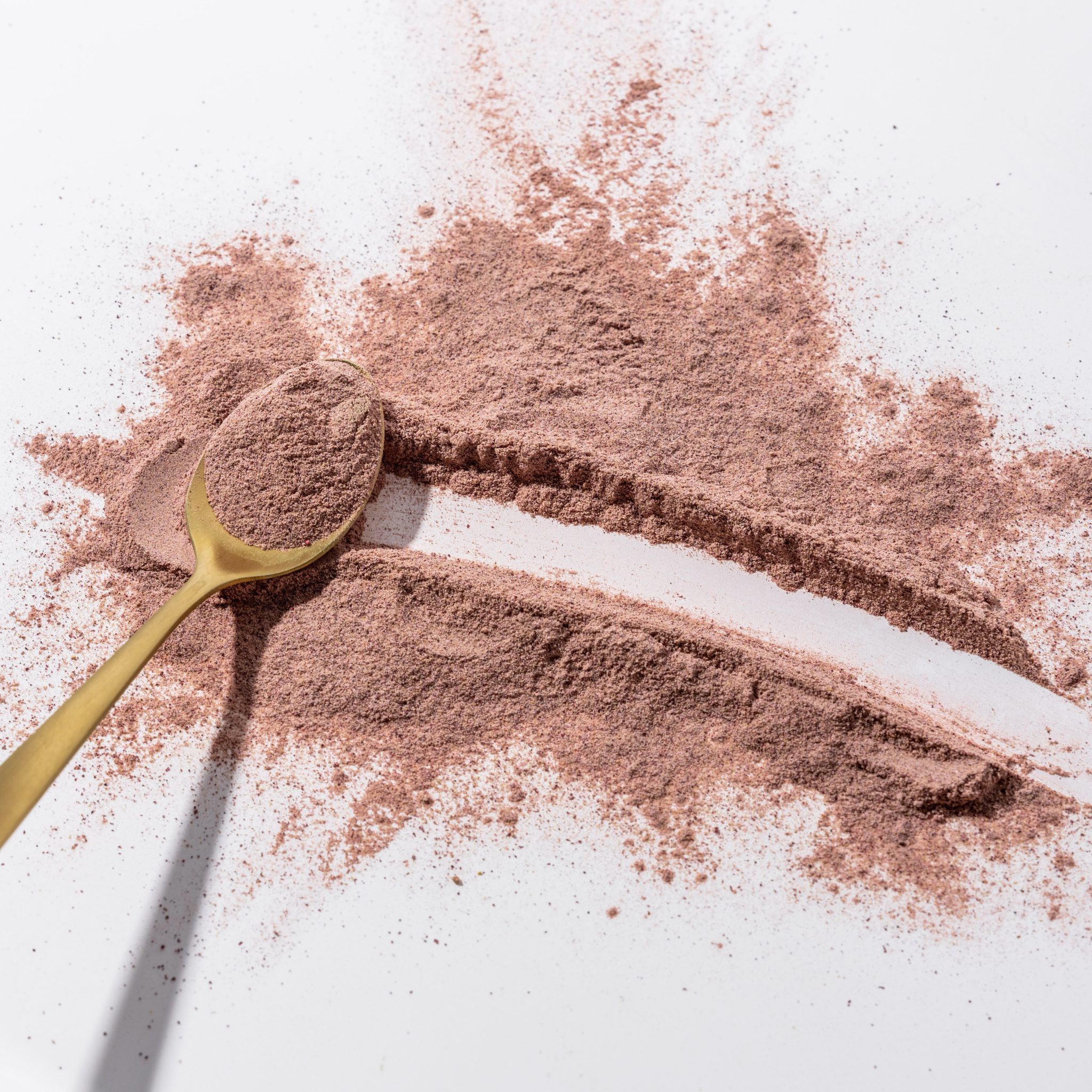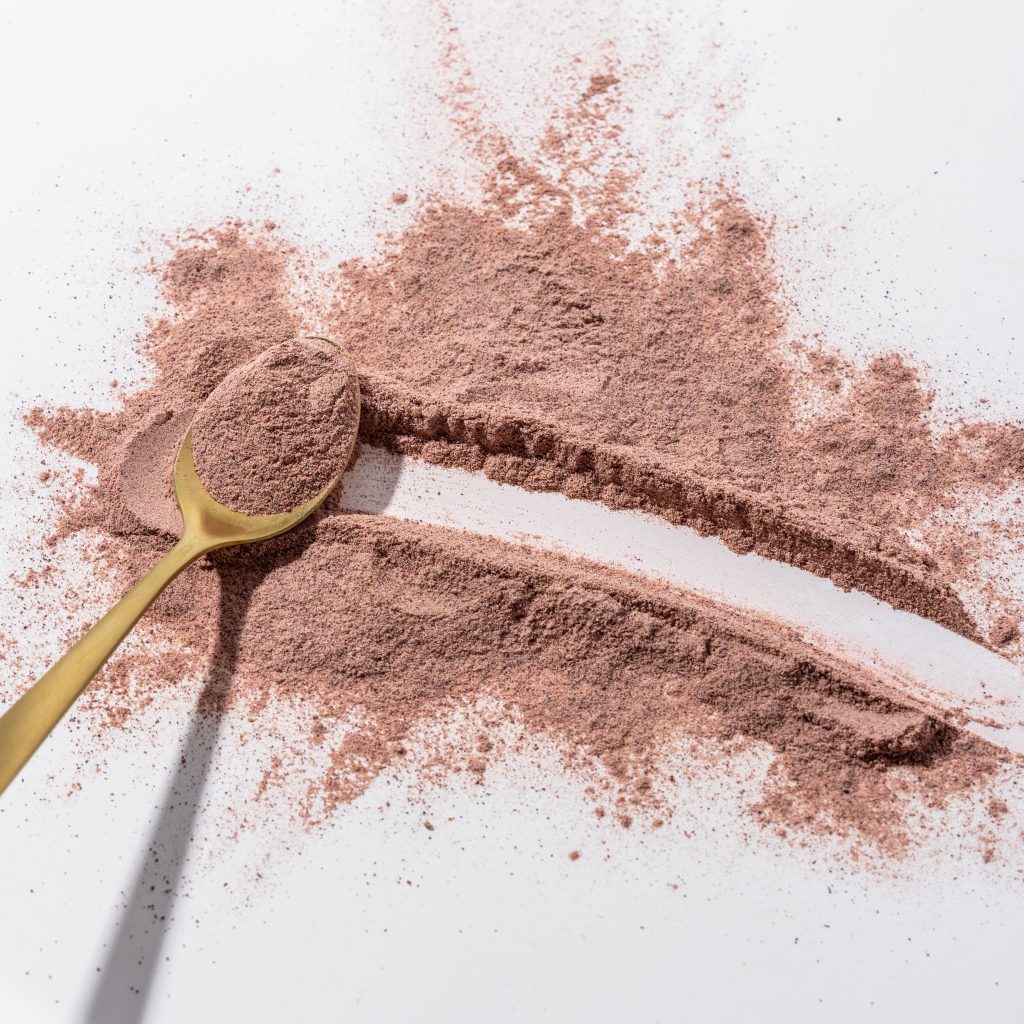 Visit us for a consultation and discover the VITA-SOL range with our expert team.
Frequently Asked Questions
How can I take the VITA-SOL powders, and what's the recommended serving size?
Taking VITA-SOL powders is effortless and designed to fit seamlessly into your daily routine. You can mix the powders with water, smoothies, or juice. Our flavorless 100% marine collagen is perfect for adding to your morning coffee or tea. For the recommended serving size, incorporate 7 grams daily, which equals two flat teaspoons. Consistency is key, and the best results come with daily use.
Can I mix VITA-SOL powders to create my own blend?
Absolutely! All of our VITA-SOL powders can be mixed to craft your personalized super blend. Simply add one heaped teaspoon of each powder to your water, juice, or smoothie.
What is the shelf-life of VITA-SOL products, and how should I store them?
To fully enjoy the benefits of VITA-SOL powders and make the most of our wholefood ingredients, it's advisable to consume your product within 30 days of opening. Each product contains a one-month supply designed for daily use. You can store VITA-SOL powders on your kitchen counter or in the pantry. In extreme heat or humidity, it's best to move them to the fridge.
Are all VITA-SOL powders certified organic, and can I recycle the packaging?

Our commitment to sustainability is evident in our products. Purity Greens powder and Herbal Teas are ACO Certified Organic. In all our products, we incorporate third-party certified organic ingredients whenever possible and prioritize sustainable choices. You can easily recycle our product packaging in your kerbside recycling bins. We consciously avoid excessive outer packaging or plastic scoops to reduce waste and protect the environment.
Are VITA-SOL powders safe during pregnancy or with medical conditions?

While VITA-SOL powders are considered food-grade and contain high-quality, gently extracted nutrients, they have not been specifically developed or tested for use during pregnancy or breastfeeding. We strongly recommend consulting a medical professional before consuming our products if you are pregnant or breastfeeding. Additionally, if you have any concerns or specific medical conditions, it's advisable to seek professional medical advice before adding VITA-SOL to your diet. Here are some cautionary guidelines:
Pregnancy or Breastfeeding: Seek medical advice before making dietary changes.
Chemotherapy: Consult with a healthcare professional before altering your diet.
Blood Pressure Medication: Fish oil, as found in our Ultra Omega Plus, may lower blood pressure and may not be suitable for those with low blood pressure. As a precaution, seek medical advice before making dietary changes.
Blood Thinning Medication: Certain foods, like leafy greens or fish oil supplements, can interact with blood-thinning medication. We strongly advise against taking VITA-SOL without medical consent if you are on any medication.
Why choose Jade
Cosmetic Clinic
At all of our Jade Cosmetic Clinics, we pride ourselves on providing genuine care and support for each and every client. From the moment you step through our door, we will ensure you have the best possible experience. Your safety is also imperative to us, that's why every service we provide is carried out by highly trained, experienced specialists.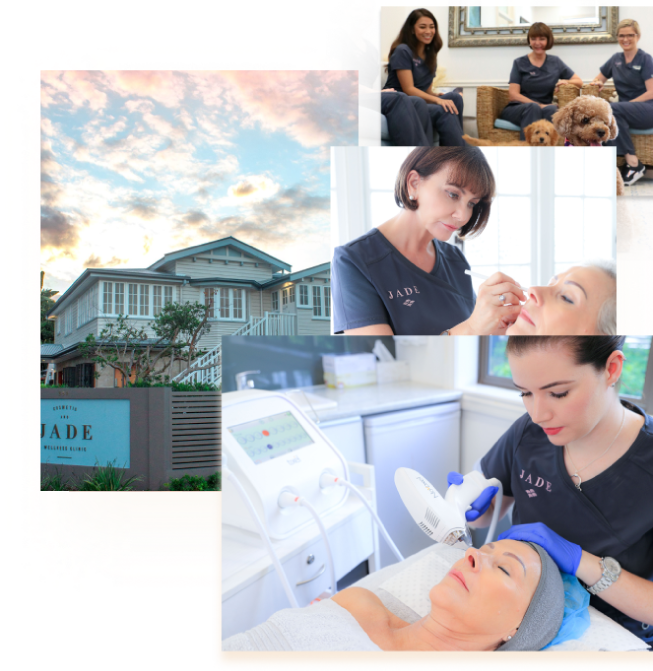 Don't just take our word for it…
"I had an outstanding experience with Jade a few weeks ago. Lisa was exceptionally caring, listened to my concerns about skin care and gave excellent advice. Michael made outstanding suggestions for products, and having used the Synergy samples for a few weeks, I am completely convinced by his recommendations (also a wonderful foundation match!). I recommend Jade Cometic Clinic highly! :)"
Mirani L.
"If you're looking to find the best clinic in cairns, this is definitely the one! My experience was so professional and the staff made me feel so comfortable and welcome. 10/10!"
Cailey S.
"From the moment I walked into the beautiful Queenslander, I was impressed by their professionalism and outstanding demeanour of the staff. Today I felt like a woman. Thank you Jade cosmetics. Your attention to detail was impeccable. I will absolutely be returning for further treatments."
Evie K.
"Very happy with how I was welcomed, procedure was explained clearly and done with minimum discomfort, I was relaxed the whole time and felt heard , genuine advice was given by the very smiley and knowledgeable Emillie, will definitely return."
Ieong H.
"Fantastic service & beautiful clinic. Very knowledgeable staff and thorough explanation of treatment options. Highly recommend 😊"
Caitlin A.
"I was so impressed with the clinic from the second I walked in, such a comfortable and welcoming environment! I was nervous at first but soon as I spoke to Emilie she assured me I would be fine and put my mind at ease with her expertise."
Maddison G.
"From the moment I walked in the door to the beautiful friendly greeting by the receptionist. My whole experience was a relaxed and very welcoming one.
Lisa was so lovely, kind and gentle. She explained everything and gave me up front pricing which helped me fit with my budget.
Can't recommend this business enough.
Thank you for making me feel so welcomed xx"
Terez A.
"Excellent service and so much reassurance and support throughout the whole regime"
Jodi R.
"Highly recommend. The pampering begins as soon as you arrive. Excellent service, great follow up. Looking forward to my next session."
Alex C.
"Jade is such a beautiful clinic, all the staff are so friendly and professional. I have enjoyed a couple of lovely visits to treat my various skin issues and are so pleased with the results. They explain everything in full, including costs incurred and have such great technology to treat a wide range of various ailments. If you want to improve your skin health and look your best, call Jade."
Jess U.
"I had never been to Jade before and I must say I was impressed. Lisa was so informative about everything and didn't try to talk me into anything. Answered all my questions and was very truthful in what Jade could and couldn't do for me, which I really appreciated. Thank you for making this experience an enjoyable one."
Ingrid W.
"Michael went above and beyond to help me with my skin care product needs, so welcoming and helpful. Such a beautiful clinic. I won't be going anywhere else. xx"
Demi M.
Questions?
Book Your Consultation Today
A wrinkle injection treatment is an investment in your journey towards feeling younger and more confident. Contact us today for professional assistance in finding the procedure that will best enhance your natural beauty.