Rejuvenate, repair and energise
every cell in the body
RED & NIR light emitting diode helps to improve cellular function that assists the body in its natural healing and recovery process. The red and NIR LED's used, are within the optical window in biological tissue, selectively allowing them to pass deeply into the skin stimulating the naturally occurring regeneration repair, recovery and restoration processes.
Not only do you feel soothed and restored, you have less soreness and faster recovery after exercise. LED Phototherapy is widely known for its ability to strengthen collagen in the skin, making it a sought-after treatment for improving the appearance and texture of the skin.
This treatment is available at our Trinity Beach clinic.

Single treatment – $99
(Packages available)
How will Total Body XEN LED Phototherapy benefit me?
A Full Body LED Bed offers a range of benefits, including;
Skin Health
Performance & Recovery
Weight Loss
Mental Acuity
Reduced Inflammation
Sleep Optimisation
Increased Circulation
Strengthen the Immune System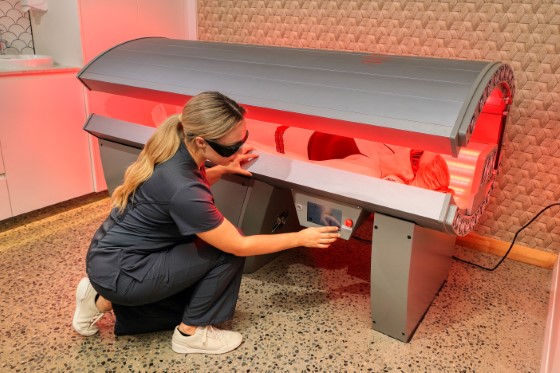 Don't just take our word for it…
"I had an outstanding experience with Jade a few weeks ago. Lisa was exceptionally caring, listened to my concerns about skin care and gave excellent advice. Michael made outstanding suggestions for products, and having used the Synergy samples for a few weeks, I am completely convinced by his recommendations (also a wonderful foundation match!). I recommend Jade Cometic Clinic highly! :)"
Mirani L.
"If you're looking to find the best clinic in cairns, this is definitely the one! My experience was so professional and the staff made me feel so comfortable and welcome. 10/10!"
Cailey S.
"From the moment I walked into the beautiful Queenslander, I was impressed by their professionalism and outstanding demeanour of the staff. Today I felt like a woman. Thank you Jade cosmetics. Your attention to detail was impeccable. I will absolutely be returning for further treatments."
Evie K.
"Very happy with how I was welcomed, procedure was explained clearly and done with minimum discomfort, I was relaxed the whole time and felt heard , genuine advice was given by the very smiley and knowledgeable Emillie, will definitely return."
Ieong H.
"Fantastic service & beautiful clinic. Very knowledgeable staff and thorough explanation of treatment options. Highly recommend 😊"
Caitlin A.
"I was so impressed with the clinic from the second I walked in, such a comfortable and welcoming environment! I was nervous at first but soon as I spoke to Emilie she assured me I would be fine and put my mind at ease with her expertise."
Maddison G.
"From the moment I walked in the door to the beautiful friendly greeting by the receptionist. My whole experience was a relaxed and very welcoming one.
Lisa was so lovely, kind and gentle. She explained everything and gave me up front pricing which helped me fit with my budget.
Can't recommend this business enough.
Thank you for making me feel so welcomed xx"
Terez A.
"Excellent service and so much reassurance and support throughout the whole regime"
Jodi R.
"Highly recommend. The pampering begins as soon as you arrive. Excellent service, great follow up. Looking forward to my next session."
Alex C.
"Jade is such a beautiful clinic, all the staff are so friendly and professional. I have enjoyed a couple of lovely visits to treat my various skin issues and are so pleased with the results. They explain everything in full, including costs incurred and have such great technology to treat a wide range of various ailments. If you want to improve your skin health and look your best, call Jade."
Jess U.
"I had never been to Jade before and I must say I was impressed. Lisa was so informative about everything and didn't try to talk me into anything. Answered all my questions and was very truthful in what Jade could and couldn't do for me, which I really appreciated. Thank you for making this experience an enjoyable one."
Ingrid W.
"Michael went above and beyond to help me with my skin care product needs, so welcoming and helpful. Such a beautiful clinic. I won't be going anywhere else. xx"
Demi M.
Questions?
Book Your Consultation Today
A total body XEN LED therapy is an investment in your journey towards feeling younger and more confident. Contact us today for professional assistance in finding the procedure that will best enhance your natural beauty.