Hyperhidrosis (excessive sweating) can cause significant discomfort and often anxiety for those who suffer from it. We all sweat in hot weather, but for the small percentage of the population that suffer from hyperhidrosis, the sweat glands continue to produce sweat even in colder temperatures. Read on to find out more information about our hyperhidrosis treatment in Brisbane, Cairns & Trinity Beach.
Hyperhidrosis is the technical term for excessive sweating. It is a common condition involving overactive sweat glands of the underarms, hands and feet. The treatment is a simple and quick procedure involving superficial injections of an anti-wrinkle product (commonly used to soften facial lines), that blocks the release of the chemical that signals perspiration and reduces excessive sweating.
What are the benefits
of hyperhidrosis treatment?
There are numerous physical and mental benefits of having hyperhidrosis treatment:
Stop excessive sweating in many areas of the body
No longer need to use antiperspirant deodorant
Improves self-confidence
Reduces feelings of anxiety
Eliminates unwanted sweat patches
Removes the need for surgery
Removes the need for oral medications which can have significant side effects
What are the common causes
of excessive sweating?
There are 2 types of hyperhidrosis (primary and secondary) and the causes of each are slightly different:
Primary Hyperhidrosis
Primary hyperhidrosis (also known as axillary hyperhidrosis) is the most common type and affects the axillae, hands and feet (areas of the body with a relatively high concentration of sweat glands). The condition is usually inherited and typically begins in childhood and then gets worse with puberty, especially in women.
Secondary Hyperhidrosis
Secondary hyperhidrosis is either caused by an underlying medical condition or by taking certain medications and may cause uncontrollable sweating all over the body. It can also lead to other symptoms including fatigue and headaches.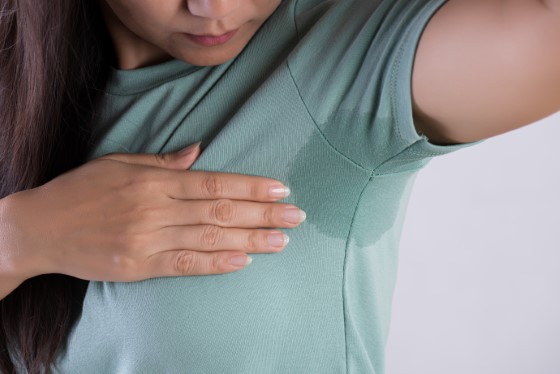 An anti-wrinkle product is used to effectively treat
excessive sweating in a number of areas of the body.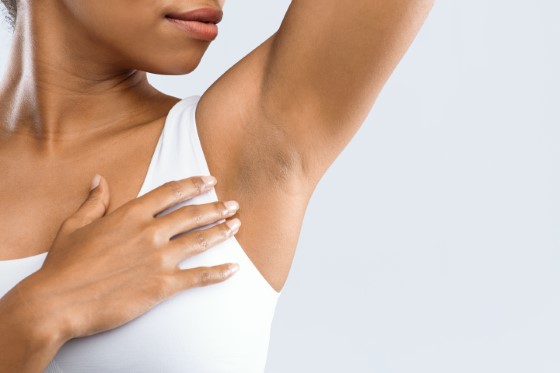 After having anti-sweating injections many people no longer
feel the need to use other forms of antiperspirant.
Am I a good candidate for hyperhidrosis treatment?
If you suffer from overactive sweat glands and the condition leaves you feeling uncomfortable and anxious then you may want to seek treatment for excessive sweating. However, some people also choose to have anti-sweating injections as they are far more effective than a spray or roll-on antiperspirant. In fact, after undergoing this treatment many people no longer feel the need to use other forms of antiperspirant.
How is the excessive sweating treatment carried out at Jade Cosmetic Clinic in Brisbane?
If you choose to have your hyperhidrosis treatment in Brisbane with us at Jade Cosmetic Clinic, this is what you can expect:
Consultation
At your consultation, one of our Registered Cosmetic Nurses will ask you about your needs and expectations and answer any additional questions you may have about the procedure and how it works. You will also have the opportunity to raise any questions or concerns you might have about the procedure, and ensure that it is the right treatment for your particular needs.
Procedure
The procedure itself is quick and simple and involves injections of a muscle relaxant via a very fine needle, which then blocks the release of the chemical that signals perspiration. A numbing cream can be applied to the area prior to treatment, although most clients find this unnecessary as the treatment is quick and only mildly uncomfortable.
Results
Positive effects are noticed as early as 5 days after treatment and have a duration of 9 to 12 months. It is important to note that the effects of the treatment, while long-lasting, are not permanent. For this reason, we recommend that you come in for follow-up appointments.
How much does
hyperhidrosis
treatment cost?
The cost of the treatment is $1,500 per area  (both palms or both underarms for example). In order to find out exactly how much the treatment would cost you, we recommend booking an initial consultation with us. That way we can come up with a bespoke treatment plan that suits your individual needs.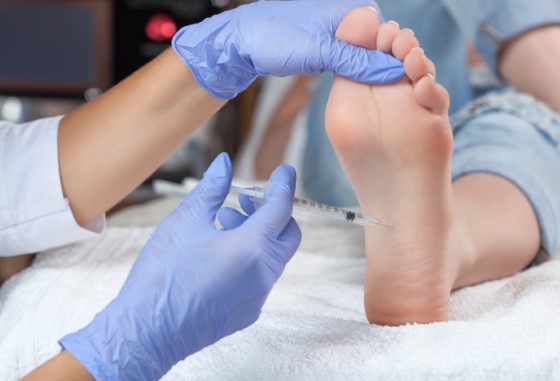 The anti-sweating injections can also reduce
excessive sweating in your hands and feet.
Why choose us for your excessive sweating treatment?
At Jade Cosmetic Clinic, we understand that it's not just about the way you look, it's all about how you feel. This is why we've built our reputation on understanding your real needs and the way you want to look and feel, while also providing unbiased, genuine support and sharing our intricate knowledge.
From the moment you walk through our doors, we want to ensure you have a fantastic and memorable experience.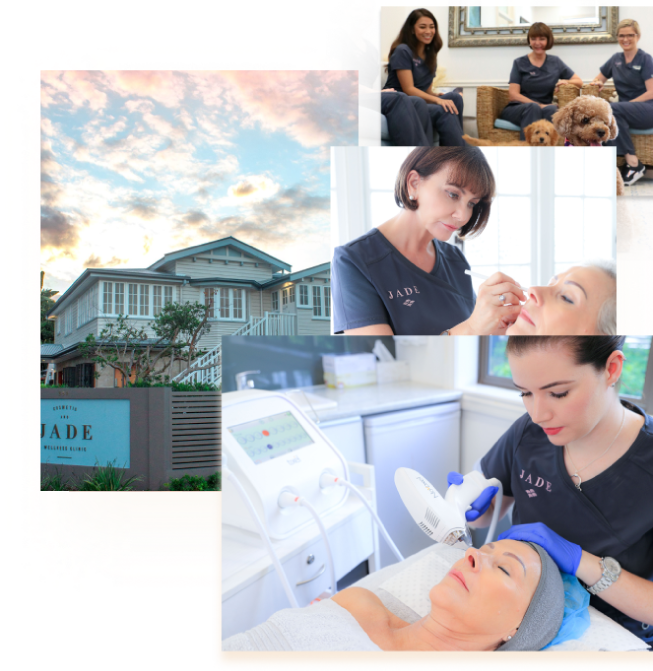 If you have any more questions about hyperhidrosis treatment at any of our Queensland clinics, please don't hesitate to contact us today. In the meantime, you can find our FAQs below that may provide the additional information you need.
Don't just take our word for it…
"I had an outstanding experience with Jade a few weeks ago. Lisa was exceptionally caring, listened to my concerns about skin care and gave excellent advice. Michael made outstanding suggestions for products, and having used the Synergy samples for a few weeks, I am completely convinced by his recommendations (also a wonderful foundation match!). I recommend Jade Cometic Clinic highly! :)"
Mirani L.
"If you're looking to find the best clinic in cairns, this is definitely the one! My experience was so professional and the staff made me feel so comfortable and welcome. 10/10!"
Cailey S.
"From the moment I walked into the beautiful Queenslander, I was impressed by their professionalism and outstanding demeanour of the staff. Today I felt like a woman. Thank you Jade cosmetics. Your attention to detail was impeccable. I will absolutely be returning for further treatments."
Evie K.
"Very happy with how I was welcomed, procedure was explained clearly and done with minimum discomfort, I was relaxed the whole time and felt heard , genuine advice was given by the very smiley and knowledgeable Emillie, will definitely return."
Ieong H.
"Fantastic service & beautiful clinic. Very knowledgeable staff and thorough explanation of treatment options. Highly recommend 😊"
Caitlin A.
"I was so impressed with the clinic from the second I walked in, such a comfortable and welcoming environment! I was nervous at first but soon as I spoke to Emilie she assured me I would be fine and put my mind at ease with her expertise."
Maddison G.
"From the moment I walked in the door to the beautiful friendly greeting by the receptionist. My whole experience was a relaxed and very welcoming one.
Lisa was so lovely, kind and gentle. She explained everything and gave me up front pricing which helped me fit with my budget.
Can't recommend this business enough.
Thank you for making me feel so welcomed xx"
Terez A.
"Excellent service and so much reassurance and support throughout the whole regime"
Jodi R.
"Highly recommend. The pampering begins as soon as you arrive. Excellent service, great follow up. Looking forward to my next session."
Alex C.
"Jade is such a beautiful clinic, all the staff are so friendly and professional. I have enjoyed a couple of lovely visits to treat my various skin issues and are so pleased with the results. They explain everything in full, including costs incurred and have such great technology to treat a wide range of various ailments. If you want to improve your skin health and look your best, call Jade."
Jess U.
"I had never been to Jade before and I must say I was impressed. Lisa was so informative about everything and didn't try to talk me into anything. Answered all my questions and was very truthful in what Jade could and couldn't do for me, which I really appreciated. Thank you for making this experience an enjoyable one."
Ingrid W.
"Michael went above and beyond to help me with my skin care product needs, so welcoming and helpful. Such a beautiful clinic. I won't be going anywhere else. xx"
Demi M.
How to book a consultation
at Jade Cosmetic Clinic
To enquire about a hyperhidrosis treatment appointment in Brisbane, Cairns or Trinity Beach, or for more information, you can contact us online or call us on 1300 060 644. Or if you're ready to book a consultation with us, you can fill out our online booking form.