What are collagen stimulating injections?
If you're interested in a skin rejuvenation treatment that can help revitalise your complexion and promote a more youthful appearance, collagen-stimulating injections may be a suitable option. Cairns locals can contact us today to book an initial consultation, or to find out more information about these cosmetic injectables or any of our other skin and body treatments.
Collagen-stimulating injections are a type of bio-stimulator that works by stimulating your skin to regenerate its natural collagen and elastin. This process can contribute to healthier-looking skin with improved texture and tone. The injections are carefully administered at an appropriate depth to address specific concerns such as structural support, volume replacement, and overall skin quality enhancement.
At our clinic, we prioritise your well-being and aim to provide you with comprehensive and educational information. Our friendly team is dedicated to addressing your questions and helping you make informed decisions regarding collagen-stimulating injections. Contact us today to learn more and explore how these treatments can support your skin rejuvenation goals.
What are the benefits of
bio-stimulating injections?
There are numerous different benefits of bio-stimulating injections in Cairns:
Effective anti-wrinkle treatment removing deep lines and wrinkles from the face, neck and chest
Restore volume loss in the cheeks, temples and hands
Improve structural support in the cheeks and jawline
Give the skin a more youthful appearance
Stimulation of natural collagen production leads to skin tightening and rejuvenation
Improve skin tone
Improve skin quality (elasticity and plumpness) in the face, neck, chest, hands and arms
Reduces the appearance of acne scars
Counteract the signs of ageing
Improve sagging skin around the face, neck, arms, knees and hands
Improve cellulite and stretch marks restoring firm skin
A non-surgical buttock enhancement and hip dips option
Particularly effective for men with sagging midface
What is the difference between dermal filler injections and collagen stimulating injections?
There are a few key differences between how collagen stimulating injections and dermal fillers work: 
Bio-stimulating injections work by stimulating the body's natural production of collagen, with results gradually occurring over time but looking very natural. They require 2 to 3 sessions approximately 6 to 8 weeks apart and the results last at least 2 years. They are well suited to clients who want to see gradual improvement over time rather than in a single session.
Dermal fillers are made of a different substance (hyaluronic acid) and are designed to hold their shape in the body. They will last from between 9 months to 2 years (depending on which filler was used) and can target areas that bio-stimulating injections cannot (lips, around the mouth and nose).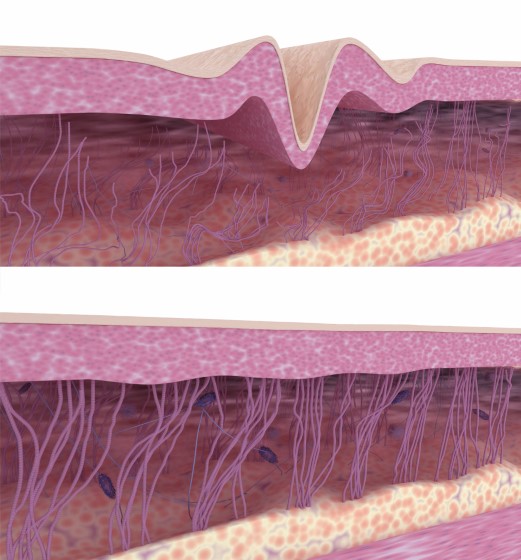 The natural production of collagen and elastin
leads to firmer, younger-looking skin.
Collagen-stimulating cosmetic injectable treatments can
be used to improve cellulite and stretch marks.
Are collagen stimulating injections right for you?
Collagen stimulating injections are suitable for both men and women who wish to rejuvenate their skin. They may be right for you if you're looking for a treatment that gradually improves over time giving you a very natural look. Contact us today to book an initial consultation so we can discuss the full possibilities and benefits of this treatment with you.
How bio-stimulating injections are carried out
at Jade Cosmetic Clinic in Cairns
If you choose to have your bio-stimulating injections with us in Cairns, this is what you can expect:
Consultation
One of our experienced Registered Cosmetic Nurses will assess your facial features and spend time understanding your concerns and ensuring you have all the information before you decide to proceed with any treatments. They will also talk you through the different types of bio-stimulating injections that we have available.
Procedure
Collagen stimulating injections are administered in much the same way as filler, using a needle or cannula. They contain a local anaesthetic in the solution, so numbing cream is rarely necessary (but it can be used for increased comfort). The treatment times are reasonably quick and usually take between 30 and 45 minutes.
Results
Unlike fillers, the results aren't immediate but instead are very natural and occur gradually over time. As the process utilises the body's collagen, the results are longer lasting. Studies show that 86% of clients are still happy 25 months after treatment.
How much do bio-stimulating injections cost in Cairns?
At Jade Cosmetic Clinic, bio-stimulating injections cost the following:
Sculptra 
$900 per vial – face
$600 per vial – body – bottom/hip dips
(Both face and body will require 2-3 treatments 8 weeks apart)
Radiesse
At your initial consultation, one of our highly experienced Registered Cosmetic Nurses will talk you through the different benefits of each of our bio-stimulating injections so that you can decide which treatment is right for you.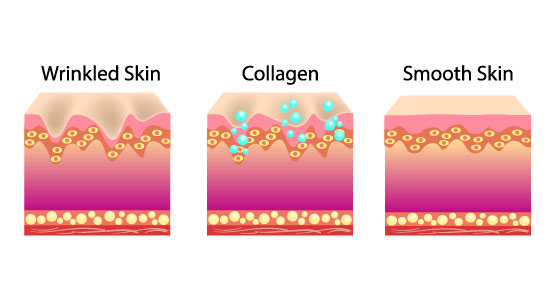 Unlike dermal fillers or anti-wrinkle injections, collagen stimulating injections contain Poly-L-Lactic Acid, which gradually initiates an inflammatory process in the skin, kickstarting the natural healing process that results in collagen and elastin production.
Why choose Jade Cosmetic Clinic for your procedure in Cairns?
Our team of Registered Cosmetic Nurses have been specifically chosen for their attention to detail and their artistic and clinical skill. All of our Registered Cosmetic Nurses are in-house trained to the very high standard of Jade Cosmetic Clinics and undergo advanced training sessions several times per year and we work with several brands of cosmetic injectables to ensure that all of our clients receive the most suitable product to achieve the optimal outcome.
Our Registered Cosmetic Nurses do not have sales targets so they are committed to providing you with the best possible options based on what is right for you! Finally, and most importantly, they are competent in diagnosing and managing complications, so you can rest assured that you're in safe hands.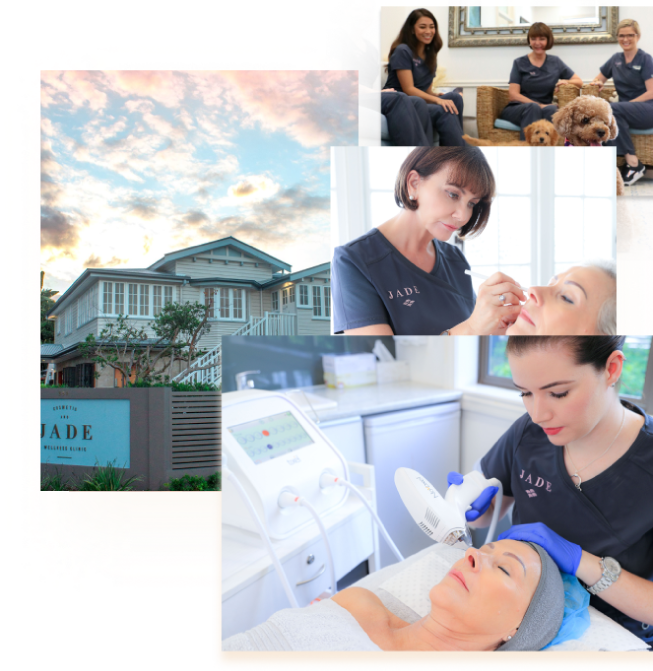 Below are some of our most frequently asked questions about our collagen stimulating injections treatment in Cairns:
Don't just take our word for it…
"I had an outstanding experience with Jade a few weeks ago. Lisa was exceptionally caring, listened to my concerns about skin care and gave excellent advice. Michael made outstanding suggestions for products, and having used the Synergy samples for a few weeks, I am completely convinced by his recommendations (also a wonderful foundation match!). I recommend Jade Cometic Clinic highly! :)"
Mirani L.
"If you're looking to find the best clinic in cairns, this is definitely the one! My experience was so professional and the staff made me feel so comfortable and welcome. 10/10!"
Cailey S.
"From the moment I walked into the beautiful Queenslander, I was impressed by their professionalism and outstanding demeanour of the staff. Today I felt like a woman. Thank you Jade cosmetics. Your attention to detail was impeccable. I will absolutely be returning for further treatments."
Evie K.
"Very happy with how I was welcomed, procedure was explained clearly and done with minimum discomfort, I was relaxed the whole time and felt heard , genuine advice was given by the very smiley and knowledgeable Emillie, will definitely return."
Ieong H.
"Fantastic service & beautiful clinic. Very knowledgeable staff and thorough explanation of treatment options. Highly recommend 😊"
Caitlin A.
"I was so impressed with the clinic from the second I walked in, such a comfortable and welcoming environment! I was nervous at first but soon as I spoke to Emilie she assured me I would be fine and put my mind at ease with her expertise."
Maddison G.
"From the moment I walked in the door to the beautiful friendly greeting by the receptionist. My whole experience was a relaxed and very welcoming one.
Lisa was so lovely, kind and gentle. She explained everything and gave me up front pricing which helped me fit with my budget.
Can't recommend this business enough.
Thank you for making me feel so welcomed xx"
Terez A.
"Excellent service and so much reassurance and support throughout the whole regime"
Jodi R.
"Highly recommend. The pampering begins as soon as you arrive. Excellent service, great follow up. Looking forward to my next session."
Alex C.
"Jade is such a beautiful clinic, all the staff are so friendly and professional. I have enjoyed a couple of lovely visits to treat my various skin issues and are so pleased with the results. They explain everything in full, including costs incurred and have such great technology to treat a wide range of various ailments. If you want to improve your skin health and look your best, call Jade."
Jess U.
"I had never been to Jade before and I must say I was impressed. Lisa was so informative about everything and didn't try to talk me into anything. Answered all my questions and was very truthful in what Jade could and couldn't do for me, which I really appreciated. Thank you for making this experience an enjoyable one."
Ingrid W.
"Michael went above and beyond to help me with my skin care product needs, so welcoming and helpful. Such a beautiful clinic. I won't be going anywhere else. xx"
Demi M.
How to book a consultation
To enquire about an appointment or for more information you can contact us online or call us on 1300 060 644. If you know what treatment you'd like and you're ready to book a consultation with us, you can fill out our online booking form.