What are fat dissolving injections?
Excess fat beneath the chin often accumulates as part of the ageing process and our genetics, not as a result of our diets or lifestyle choices. This means it can be extremely difficult to manage, leaving painful, invasive surgery as the only reliable option – until recently.
Now we have a treatment that can permanently destroy the fat cells beneath your chin, tightening the skin and contouring the jaw to deliver a slim and rejuvenated new look. Read on to find out all about our fat dissolving injections in Brisbane and how they can benefit you. 
Fat dissolving injections involve a digestive enzyme that when injected into unwanted fat cells, permanently destroys them. Once the fat cells have been destroyed they lose their ability to store and accumulate fat. The active ingredient targets fat by dissolving the outer covering of the cell. The dietary fat is then released into the bloodstream which the body naturally excretes.
Fat dissolving injections results
Below you can see some of the results that our previous clients have achieved after having fat dissolving injections in Brisbane:
What are the benefits of having double chin injections?
Double chin (submental fat) injections are the only non-surgical way to dissolve fat cells. The treatment has been proven to be highly effective and has numerous benefits:
Minimally invasive
No downtime
No incisions
No general anaesthesia
Results are designed to be permanent
Youthful results
Suitable for both men and women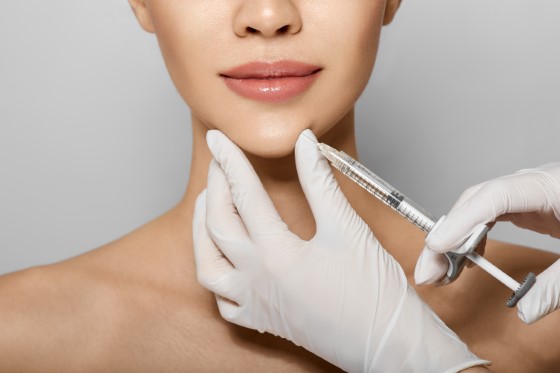 Permanently dissolve your double chin and create a defined jawline
with our Fat dissolving injections in Brisbane.
Am I a good candidate for
fat dissolving treatment?
If you have a moderate body weight or are slightly overweight with stubborn, localised fatty deposits that you haven't been able to lose, then you may be a good candidate for our fat dissolving injections in Brisbane. At your initial consultation, one of our experienced Registered Cosmetic Nurses will be able to confirm if the treatment is right for you.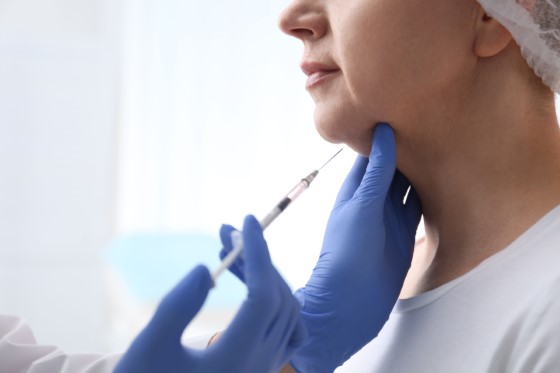 Fat cells continue to break down 4 to 6 weeks after treatment and a minimum
of two treatments is required, spaced at least 6 weeks apart.
Are there any risks or side effects?
The most common side effects we see are mild and not permanent:
Swelling – we expect to see swelling around the neck as it means the treatment is working! The swelling is at its worst about 48 hours after the procedure
Temporary numbness under the chin – approximately 50% of patients will feel this slight numbness after their treatment, with symptoms wearing off after 30 days on average
Warmth and redness – 40% of patients will feel warmth or redness under the chin on the day of their treatment
Firmness under the chin – studies show that 16% of patients will feel firmness or 'induration' under the skin after treatment. This is no cause for concern and resolves, on average, after 51 days according to studies
Rare side effects such as temporary problems with a weak smile, weak facial muscles, and trouble swallowing have been reported to occur in a small 2% of people. This is due to variances in facial anatomy from person to person. The average time for this to resolve is 44 days.
What to expect when having double
chin injections in Brisbane?
If you choose to have your chin fat dissolving injection with us in Brisbane, this is what you can expect:
Consultation
At your initial consultation, you will meet with one of our highly experienced Registered Cosmetic Nurses who will assess your facial features and spend time understanding your concerns. They will talk you through the procedure and ensure you have all the information you need before you decide to proceed with any treatments.
You'll also have the opportunity to ask any questions and address any concerns you may have.
If it's concluded that you are a suitable candidate for the treatment, we will take a series of photographs that form part of your medical history and document your transformation.
Procedure
One of our Registered Cosmetic Nurses will mark out the area to determine the most effective injection points and then inject the fat dissolving product into the skin using an ultra-fine needle. As there is no discomfort there is no need for the use of numbing cream or local anaesthetic. The procedure takes approximately 10 to 15 minutes in total.
Results
Most clients start noticing results after 4 weeks, with maximum results seen approximately 5 months after their last treatment. Results are assessed 6 weeks after each treatment to determine if any more injections are needed to achieve optimal results.
How much do fat dissolving
injections cost in Brisbane?
The total cost for our fat dissolving injections is determined by area. A small area such as the neck is $450, whereas a larger area such as the stomach is $900. The total cost for your treatment will be confirmed at your initial consultation.
$450 small area
$650 medium area
$900 large area
Why choose Jade Cosmetic Clinic for your chin fat dissolving injections in Brisbane?
At Jade Cosmetic Clinic we value every client greatly and believe the superior care and attention we provide is one of the reasons that we are one of the most sought-after and award-winning treatment clinics in Queensland.
We always strive to understand your real needs and the way you want to look and feel, while at the same time providing unbiased, genuine support and sharing our intricate knowledge of every layer of the face, skin and beyond.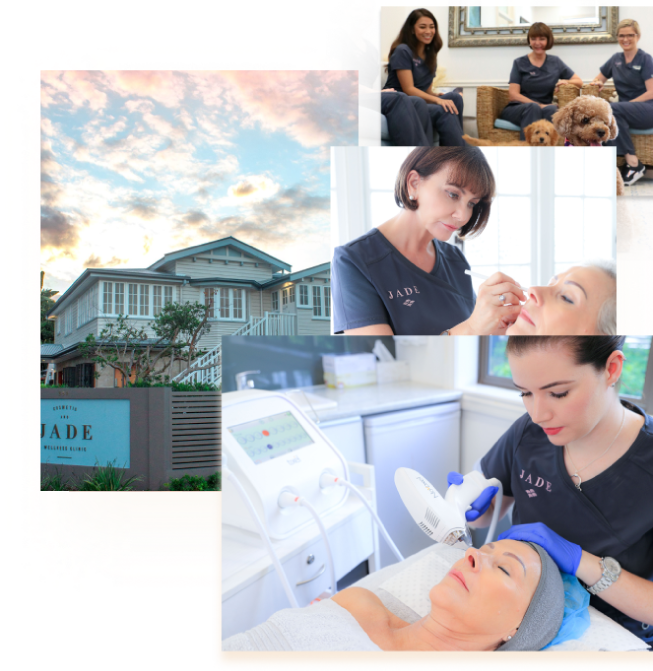 If you have any more questions regarding our fat dissolving injections, please don't hesitate to contact us. In the meantime, you can find our FAQs below that may provide the additional information you're looking for.
Don't just take our word for it…
"I had an outstanding experience with Jade a few weeks ago. Lisa was exceptionally caring, listened to my concerns about skin care and gave excellent advice. Michael made outstanding suggestions for products, and having used the Synergy samples for a few weeks, I am completely convinced by his recommendations (also a wonderful foundation match!). I recommend Jade Cometic Clinic highly! :)"
Mirani L.
"If you're looking to find the best clinic in cairns, this is definitely the one! My experience was so professional and the staff made me feel so comfortable and welcome. 10/10!"
Cailey S.
"From the moment I walked into the beautiful Queenslander, I was impressed by their professionalism and outstanding demeanour of the staff. Today I felt like a woman. Thank you Jade cosmetics. Your attention to detail was impeccable. I will absolutely be returning for further treatments."
Evie K.
"Very happy with how I was welcomed, procedure was explained clearly and done with minimum discomfort, I was relaxed the whole time and felt heard , genuine advice was given by the very smiley and knowledgeable Emillie, will definitely return."
Ieong H.
"Fantastic service & beautiful clinic. Very knowledgeable staff and thorough explanation of treatment options. Highly recommend 😊"
Caitlin A.
"I was so impressed with the clinic from the second I walked in, such a comfortable and welcoming environment! I was nervous at first but soon as I spoke to Emilie she assured me I would be fine and put my mind at ease with her expertise."
Maddison G.
"From the moment I walked in the door to the beautiful friendly greeting by the receptionist. My whole experience was a relaxed and very welcoming one.
Lisa was so lovely, kind and gentle. She explained everything and gave me up front pricing which helped me fit with my budget.
Can't recommend this business enough.
Thank you for making me feel so welcomed xx"
Terez A.
"Excellent service and so much reassurance and support throughout the whole regime"
Jodi R.
"Highly recommend. The pampering begins as soon as you arrive. Excellent service, great follow up. Looking forward to my next session."
Alex C.
"Jade is such a beautiful clinic, all the staff are so friendly and professional. I have enjoyed a couple of lovely visits to treat my various skin issues and are so pleased with the results. They explain everything in full, including costs incurred and have such great technology to treat a wide range of various ailments. If you want to improve your skin health and look your best, call Jade."
Jess U.
"I had never been to Jade before and I must say I was impressed. Lisa was so informative about everything and didn't try to talk me into anything. Answered all my questions and was very truthful in what Jade could and couldn't do for me, which I really appreciated. Thank you for making this experience an enjoyable one."
Ingrid W.
"Michael went above and beyond to help me with my skin care product needs, so welcoming and helpful. Such a beautiful clinic. I won't be going anywhere else. xx"
Demi M.
How to book a consultation
at our Brisbane clinic
To enquire about a fat dissolving injections appointment in Brisbane or for more information you can contact us online or call us on 1300 060 644. Or if you know what treatment you'd like and you're ready to book a consultation with us, you can fill out our online booking form.